As you know, if you read this blog regularly, I've been reading Eudora Welty's memoir, One Writer's Beginnings.  She delves deeply into her early life, how her parents surrounded her with books and read to her in their nursery in their home in Jackson, Mississippi.
In the second phase of the book, entitled "Learning to See," she focuses on her summer vacation north to visit her mother's parents in West Virginia and her father's parents in Ohio.   I have lived in West Virginia almost all of my life and so the descriptions of the life she saw here in the early part of the 20th century are very interesting to me.  I have been to the places she writes about – the towns of Clay and Richwood and the country all along the Elk River.
She writes particularly about one such trip she made very early in her life with only her mother.  They traveled by train to Clay, West Virginia and spent time in her grandparents' home on a mountaintop there.  Eudora's father came to West Virginia at the end of their visit to, as she puts it, "shepherd us home."   Although she was very young then, she speaks of this memory about her father's arrival:
. . . I was not too much of a baby to notice and remember how different it was when my father arrived on the scene.  A difference came over what we were doing, like a change in the wind.
I know what she means.  I remember something of the same in my own early life and I will try to express that before I end this post.  But the idea I have now is perhaps better expressed by Leo Tolstoy in his masterpiece, Anna Karenina.
That book actually began as two books – one the fatal story of Anna and the other the story of the life and redemption of Levin and Kitty.   The second story is far the better one.   Anna's life is one mistake after another leading to dissolution and finally death but Levin and Kitty's story is a great love story and a great story of victory in living.
Kitty Shcherbatsky
Kitty and Levin's story begins with great disappointments on both sides.  Levin is head-over-heels in love with Kitty, but before he can bring himself to propose to her, she becomes enamored with Count Vronsky, who leads her on only to at last disappoint and mortify her by transferring his affections to the married Anna.
Kitty's family does what it can to help her assuage her grief.  This includes, as the story goes, a trip to a German spa where Kitty meets another girl who works with the halt and the lame at there in service to Christ.  Kitty is drawn to this Varinka and comes to see that her own grief can be forgotten as she immerses herself in sacrificial love.
This is Kitty's conversion.  It is real, and it is really brought about, on the human plane, by Varinka and a woman for whom Varinka works.  Kitty comes to venerate this older woman.
But when Kitty's father, an old Russian prince, steeped in experience and tradition, arrives on the scene, things change.  It turns out that the old prince knew the woman Kitty has come to idealize.  When he meets her again at the spa, Kitty can see the woman in a new way through her father's eyes as he speaks to the woman, as she reacts and as her father comments to her later about the woman's character and earlier life.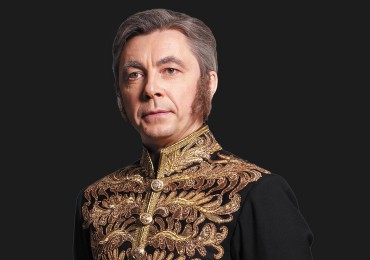 Prince Shcherbatsky
Here is Tolstoy:
. . .  with her father's coming all the world in which she had been living was transformed for Kitty.  She did not give up everything she had learned, but she became aware that she had deceived herself in supposing she could be what she wanted to be. Her eyes were, it seemed, opened; she felt all the difficulty of maintaining herself without hypocrisy and self-conceit on the pinnacle to which she had wished to mount.  Moreover, she became aware of all the dreariness of the world of sorrow, of sick and dying people, in which she had been living. The efforts she had made to like it seemed to her intolerable, and she felt a longing to get back quickly into the fresh air, to Russia, to Ergushovo, where, as she knew from letters, her sister Dolly had already gone with her children.

But her affection for Varenka did not wane. As she said good-bye, Kitty begged her to come to them in Russia.
This scene from the book is far deeper and more subtle than I can convey in this post.  It is in fact a masterly dramatization of an elusive but profound dynamic of good fathering.   I don't think I have ever seen anyone else even try to communicate this, in story or in exposition. Fathers, good fathers, are a sobering influence.  They see the people who surround their children in a different, more mature, less fanciful light.  They are sensitive to any attempt or effort to patronize or exploit their children.  When dad comes around, the nonsense stops.
When dad is not around, the nonsense often goes on unchecked.